All about I-tip hair extensions
Hair extensions are more than just a rave; they are now a part of our lives and we are loving it!
If you're a fan of hair extensions, you should try the I-tip hair extensions because there's more than enough to love about them. This post will take you through all you should know about I-tip hair extensions.
What is I-Tip Hair Extension?
I-tip hair extensions, also called microbeads, is a hair extension that has their tip attached to your hair strands by the means of silicone beans holding the extensions in place on the hair.
I-tip hair extensions are applied using special pliers, in a method that is free of heat exposure, adhesives, and sophisticated procedures.
This hair extension delivers a natural appearance because your hair extensions appear right next to your actual hair at the root and then flow down together.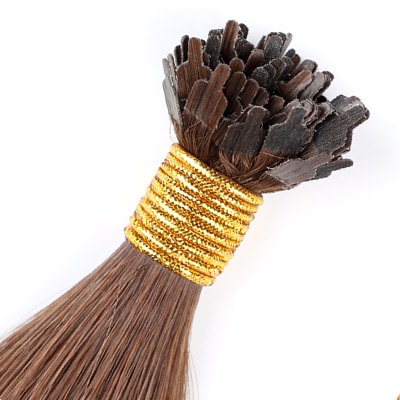 How Much Do I-Tip Extensions Cost?
Although we wouldn't say I-tip extensions are on the cheap side, we consider them an investment due to their semi-permanent nature.
The average I-tip hair extension ranges between $200 and $400 including application, and it can be more depending on the length and fullness you want to achieve. A full head of shoulder-length hair could cost $300, while a super-long extension could cost up to $700.
Benefits of I-tip hair extensions 
I-tip hair extensions have a lot of features that make them the right choice for you, including the following; 
It is great for people looking to lengthen their short hair locks seamlessly.
Installation of I-tip hair extensions doesn't need heat exposure, making it safer for your hair.
If you're handy with hair, you can install your hair extensions on your own. It is also easy to remove when you're done with it. 
Due to their lightweight nature, I–tip hair extensions don't put a strain on your hair strands.
They are semi-permanent, which means you don't have to install and uninstall them frequently.
Downsides of I-Tip Hair Extensions
Although there isn't much in the way of disadvantages, these are some disadvantages of I-tip hair extensions you should know.
Hair maintenance can be difficult due to the nature of the extension installation. You'll need to be very careful about brushing and washing your hair when you have the extensions on.
You need to have some tools like beads and pliers to install I-tip hair extensions.
For beginners, the installation process can be quite complex, which means you might need to go to a salon and pay someone to handle your installation.
If you do not keep up to date with your maintenance appointments issues like matting or hair pulling can also occur
How long will my I-tip extensions last?
On average, these extensions will last for two to three months before they begin to come off. However, you can reapply and reuse them for as much as 4 times with silicon beads, so we're looking at a worthwhile investment here.
How to Care for I-Tip Hair Extensions?
Once you get the beautiful I-tip Hair extensions installed, you need to take care of them so that they last longer. 
This includes using a natural bristle brush on your hair twice a day, and before you shampoo and condition it every time.
Always rinse your hair thoroughly when you shampoo to avoid leaving behind suds that could dry out the silicone beads when reattached. You also need to avoid wet styling and only re-apply the extensions when they're thoroughly dry.
It also helps to use a silicon-free conditioner every day for about 14 days after installation before going back to your regular conditioner.
Not for you? Check out our seamless clip in extensions